Meet Jeff Evers
---
Jeff Evers, MU's new lab safety manager, arrived on campus in February ready to partner with campus colleagues to make their labs safe environments for those who daily spend time in them. Past experience and successes make him a good fit for his new post.
Evers' position at MU brought he and his wife Meeta back to his hometown from St. Louis where he had been working as the University of Missouri – St. Louis (UMSL) manager of Environmental Health and Safety.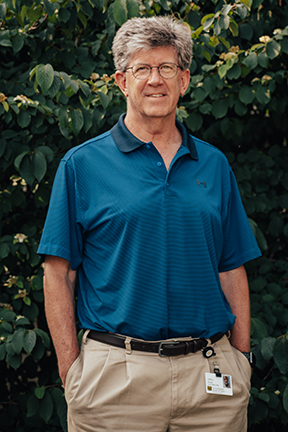 "At UMSL, I worked with chemistry, biology, nursing and physics programs," Evers said. "But here at MU, I'll also be working with engineering, vet med, and health professions. It's the opportunity to do what I do on a much bigger scale — many different and new fields. That bigger challenge is what appealed to me about the lab safety manager position at MU."
Evers graduated from MU with a bachelor of science degree in chemical engineering in 1984. Prior to his position at UMSL, he worked as a process engineer in auto manufacturing and pharmaceuticals, including environmental and safety compliance in those industries. He also served as lead environmental engineer with a cement consulting firm.
Since his arrival at MU in February, he has reconvened and refreshed MU's lab safety committee with the Office of Research.
"Its members represent different colleges on campus. New people, new ideas, new priorities. We've worked to generate policies for minors working in labs," Evers said of the committee's early focus. The group also is working to develop an overall lab safety plan though one size does not fit all. He looks forward to customizing the plan to fit specific needs.
One of his first departmental interactions was with Textiles and Apparel Management.
"We worked with them to develop a safety checklist so they can make sure things are safe for their students," he said. "There are sewing machines, irons, heat presses. We wanted to identify and minimize hazards before students came back on campus."
Most recently, he worked with the greenhouses on campus to modify a lab inspection program aimed at their particular needs.
"They handle hardly any chemicals, but the greenhouses have other hazards, like hoses that can be a trip hazard and heat stress, Evers said. "We have to find solutions for all sorts of problems."
At UMSL, faculty researchers invited Evers to speak to their new graduate student classes and to the lab classes to give general safety guidelines. Additionally, departments reserved time slots for him at faculty and grad student symposiums to reach the maximum number of lab supervisors. The science departments became familiar and comfortable working with EHS. Evers would like to build the same rapport with MU researchers.
"I don't want to be seen as someone who will interfere, someone who says 'No,'" Evers said. "I want to be seen as a safety partner, someone who works with labs to address their concerns."
You can reach Evers at 573-882-6343 or eversj@umsystem.edu with questions and to discuss your lab safety concerns and/or needs. But don't be surprised if he sticks his head in the door of your lab before you get a chance to contact him.
"I really am here to help," he said.