Pedestrian Safety Program
---
Be a Part of a Safer Mizzou!
Did You Know?
30% of MU drivers only sometimes yield to pedestrians on campus? Are you willing to stake your well-being on sometimes?
A pedestrian is involved in an accident every 7 minutes in the U.S. How long did it take you to walk to class today?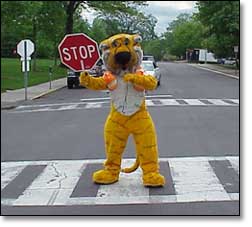 Special thanks to the Department of Athletics.
---
What You Need to Remember on Foot
Though during class times part of campus is closed to vehicular traffic, automobiles do have the right of way on all other streets, unless there is a crosswalk or signal.
Crossing at a designated crosswalk is not only safer, it's the law! Always be cautious! Vehicle sight lines can be restricted due to sunlight, parking and other obstructions, even near crosswalks.
According to the City of Columbia, pedestrians only have the right of way at crosswalks when they actually step onto the street, not when waiting on the sidewalk.
Be defensive! During peak traffic times, traffic becomes very congested on campus. Pedestrians must be aware of all directions of traffic. Don't just assume a vehicle will stop.
What You Need to Remember Behind the Wheel
Be cautious! Pedestrians can and will cross between parked cars, on red lights, and in the middle of intersections.
Remember that when turning right on green, pedestrians will have a walk signal.
Though MU is not a pedestrian campus, a large percentage of the campus community is not aware that vehicles do have the right of way in many instances.
MUPD and the Columbia Police Department can and will ticket drivers who fail to yield to pedestrians at crosswalks.